Life is hectic, filled with lines, meetings, and traffic, all of which suck precious moments from your day and money from your wallet. Instead of wasting important minutes, change your daily routine (and maybe your attitude) for more hours in the day. You'll save some cash making these adjustments too — and there's nothing wrong with that. Check out these easy ways to start saving (in more ways than one).
Source: Shutterstock
Spy on your pet: Instead of running home at lunch to make sure Fido hasn't munched his way through the couch, get yourself this WEMO Netcam HD+ (price varies) to spy on your furry friend, and only head home if there's really a need. You'll save time, gas, and brownie points with the boss.
Set your clock ahead: As a person who's always late, the only solution to my problem was to close my eyes while pressing the up button on the minutes for my alarm clock. By setting ahead (an unknown amount of time), I am able to get myself motivated earlier.
Skip the shower: OK, hear me out on this one. If you're not superoily or messy, it's OK to skip the morning shower and do a quick refresh with dry shampoo. Along with saving extra time, you're also conserving water.
Make breakfast fast: One of the most important meals of the day is breakfast, which fuels you up for everything ahead of you. So rushing out the door with a banana doesn't really cut it. Instead, have smoothie ingredients packaged and labeled in the freezer for quick blends, or make a batch of healthy muffins before your busy week begins. And you'll save money by making your own eats instead of spending cash while on the run.

Photo: Leta Shy
Call instead of text: Sure, it's easy to text, but actually making a call gets the conversation done while you multitask — which you can't do while texting. And texts can add up, while just talking on the phone doesn't run up charges.
Set time limits: We all need decompression time, but when it turns into serious procrastination, it's so not productive. Set a timer for a bit of zone-out time, and then jump back on task once it dings.
Make lists: Yeah, I'm not known for my lists, but after so many pointless hours meandering grocery stores and buying more than I actually needed, lists have become an essential step of my grocery shopping adventures. And once you get your food home, spend the time properly storing items, making them last longer.
Clean up: Disorder leads to distraction, which goes for the clutter in your home and the mess on your desktop. Get rid of files, pictures, or outdated documents that clutter your work space. This way, you spend less time digging through stuff and can be more efficient with your time — which could lead to a raise.
Get active: Sure, working out takes time, but scheduling it into your day is a smart idea. Just 20 minutes of cardio keeps you healthy, cutting down on doctor visits and leaving you feeling wonderfully healthy. Here are tons of quick workouts you can do anywhere.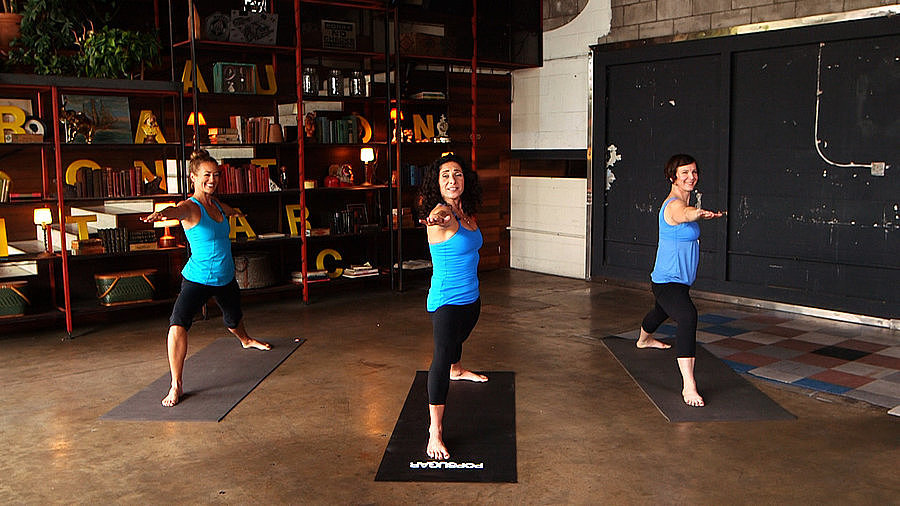 Source: POPSUGAR Studios
Use your phone: Another quick way to keep track is to use your camera phone to snap reminders during the day. I use mine for taking pictures of notes, street names, restaurants, receipts . . . You get it. It saves the time of digging around for paper and a pen.
Set reminders: Stop forgetting what's happening, and set reminders in your calendar. And this works wonderfully for birthday pop-ups, so you won't find yourself ordering flowers to be delivered last-minute to your mother and paying top dollar to make it happen.
Clean out your address book: Nothing like scrolling through a bazillion names and numbers just to get to the one you're searching for. Clean up your address book, and you'll also save yourself from butt-calling an ex.
Order your lunch: Save time, and order your lunch online before heading out the door. This way you can skip the line and head straight to the register. And you might find there are coupons or incentives for using the service.
Buy in bulk: Even if you're not a fan of big-box stores, you can really save tons of money buying in bulk. And you might be surprised by some of the interesting items you can find. Invest in storage containers, and portion food when you get home so you'll have everything you need for making tasty dinners.
Cook! No need to be a culinary genius; you can cook your own dinners, saving you so much money and helping you eat healthy. One of the best kitchen accessories for saving time and money is a crockpot, since it does all the cooking for you while you're at work. They're especially great for warm Winter foods, so grab this Crock-Pot Smart Slow Cooker ($130), which can be controlled remotely, before the Winter chill sets in!

Source: WEMO
Wash your dishes: OK, no one wants to wash dishes after eating, but if you do it the right away, this chore takes less time. And if you have a dishwasher, rinse your dishes and stack them right away.
Record your shows: If you can, record your favorite shows so you can skim through commercials, which totally cuts back on your viewing time.
Bunch tasks: If your prescription pickup is on the same side of town as where you get your office supplies, time the items together so you save on travel time. Bunching tasks makes life so much easier after you figure it out.
Check your commute: The next time you're heading to work, time it. Then do a bit of research and figure out if it's the most efficient route or commute option. You might find that by adjusting your course or taking a different bus, you can save some time and maybe some cash.
Turn off your cell: Just like your email notifications, turn off your cell when you're focusing on work — and especially at the end of the night. You'll be more attentive to tasks you're tackling and to those around you.
Delegate: Don't be afraid to ask for help or to delegate when you're feeling overwhelmed. And this goes from performing tasks at work to taking care of the chores at home. Sure, you can't get the cat to fold laundry, but you can ask your partner or roommate to be on top of certain tasks or to delegate items to co-workers.
Sort your laundry: It's as easy as creating one bin for whites and another for vibrant colors for tossing dirty clothes into at the end of your long day. You'll save time sorting when it's laundry day. And take the time to properly measure laundry detergent when you're doing laundry, which lets your detergent do its job while saving you money.