Video of Hot Banker Debrahlee Lorenzana Talking About Boob Job
Discovery Channel Happy to Distract Us With Too-Hot Banker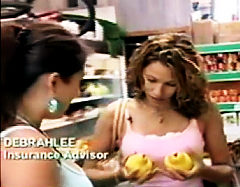 After Citigroup allegedly fired Debrahlee Lorenzana because of her distracting good looks, she turned her tale into a national news story. It seems the self-proclaimed hottie has always dreamt big. Back in 2003, she appeared in a Discovery Health Channel reality show called Plastic Surgery New York Style, and declared her desire to become "tits on a stick." Now Discovery has decided to re-air the episode this Saturday, keeping Debrahlee on track for brief pop-culture infamy.
If you tune in Saturday, you'll see Debrahlee consult a doctor about a second boob job. She wanted to go from a 32D to a 32DD so she could look like a "Playboy Playmate" and attract a good man. So while God cursed Debrahlee with beauty, it appears she's helped amp up the distraction level. But her lawyer says it won't impact her case, since a boob job doesn't make you fair game for harassment or discrimination. Word. Either way, I think there's more to the story . . . and I'm sure we'll hear about it.
To see the video from the show, which the Daily News originally dug up, read more.