Starbucks Hires More Veterans and Military Spouses
Starbucks Keeps Promise to Hire 25,000 Veterans With Military Family Stores
"Service members and military spouses are the best example of engaged citizens. Long after leaving active duty, they continue to vote, volunteer, and serve their communities at a high rate, serving as the best examples of citizenship. We are honored to serve as a place where these American heroes can continue to impact their community in a positive way." These are the words of Starbucks Senior Vice President John Kelly regarding the coffee chain's Military Family Stores initiative — in which select stores are staffed primarily by veterans and military spouses.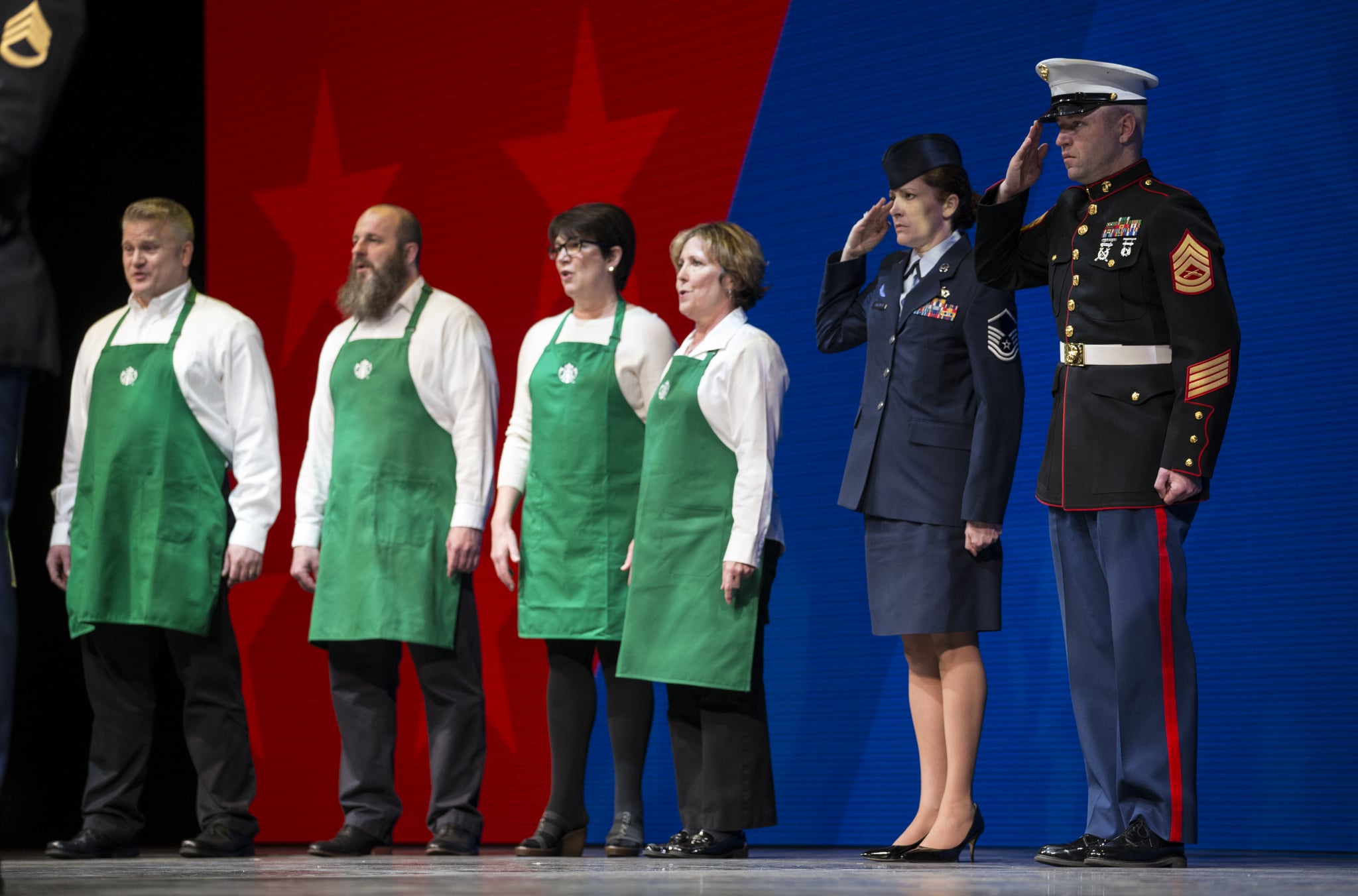 Starbucks partners sing the Star Spangled Banner while members of the military salute during the company's 2017 meeting of shareholders.
In 2013, Starbucks vowed to provide 10,000 jobs to veterans and military spouses by 2018. Having met that goal by March 2017, the coffeehouse corporation promptly made a new commitment: hiring 25,000 veteran and military spouses by 2025. For many veterans, the transition from military service to civilian life can be frightening, confusing, and difficult, and veterans often receive inadequate assistance when it comes to job training and placement. In 2016, the approximate number of unemployed veterans reached 453,000, and according to estimates by the US Department of Housing and Urban Development (HUD), as many as 39,471 veterans are homeless on any given night.
With obvious reverence for our servicemen and women and their families, Starbucks currently has 37 Military Family Stores (with 100 more to come by 2022), and the effort has clearly made a difference in the lives of these employees. One Tennessee store manager and military spouse claimed, "I've never felt so supported by a company in my life." Indeed, the company does seem to be putting its money where its mouth is, by attempting to "bridge the divide between the 1 percent of Americans who have served in the US military and the 99 percent who have not." Find out if there is a Starbucks military family store near you, and show your support!
Image Source: Getty / Stephen Brashear