Is It Selfish or Economical to Have Our Wedding on Sunday vs. Saturday?
Ask a Savvy Bride: Is It Selfish to Have Our Wedding on a Sunday?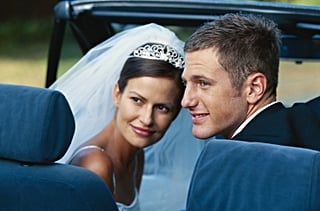 If you've ever been to a Sunday night wedding, give this bride your two cents because she's torn, and if you have questions of your own that you'd like answered by a Savvy Bride, ask away in the Ask Savvy group!
Dear Savvy,
My fiance and I are planning our wedding on a shoestring budget. He thinks we should have the wedding on a Sunday to save on our dream venue's Friday and Saturday night price supercharges (it's a $4,000 difference, if you can believe it!). The problem is, both our families will be coming in from out of town and I worry that we will be saving money but putting a burden on our guests. I suspect many friends will end up coming in to town Friday or Saturday (and will therefore have to get a hotel room for additional days) and then will have to take Monday off of work. Should we save a little longer and spring for the Saturday spot, or do you think guests won't mind as much as I worry they will?
Looking out Laurie
To see what a savvy bride has to say about this, keep reading after the jump.
Savvy says:
Hmm, this is a tough decision so I understand why you're struggling. One thing to remember about your wedding is that you and your fiance have the final say about everything, especially the date. If you simply can't afford the price tag for your dream venue on the most popular night of the weekend (Saturday), having it there on Sunday is definitely your next best option. If you decide to go that route, yes, the people traveling will have to take that Monday off, but that means they won't necessarily have to take the Friday off beforehand. If your wedding festivities start Saturday night, most people can travel Friday after work or first thing Saturday morning to make it in time. In fact, those travel days might end up being less expensive in the long run.
With that said, if you still don't feel comfortable having a Sunday wedding, pushing it out in order to save more is of course another option. As someone who is having a seven-month engagement, I couldn't fathom waiting any longer (I'm already too excited!) so you're going to have to make that decision on your own.
At the end of the day, the people you invite to your wedding are your closest friends and family members who are thrilled to witness your special day, no matter what day of the week it happens to fall on. Good luck to you and congratulations!
Ask anything budget-, etiquette-, or planning-related — well, almost anything — by posting your questions in the Ask Savvy group, and I'll find the right expert to help you out. If you are planning a wedding, already happily wed, or still looking for Mr. Right, start sharing your big day with our community. Don't forget to check the wedding content box on your post.
—Additional reporting by Alexis Nordby