How Much Should I Spend on Bridesmaid Gifts?
Ask a Savvy Bride: How Much Should I Spend on Bridesmaids?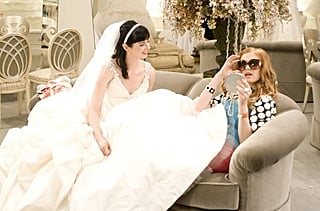 Being someone's bridesmaid is a great honor, but it requires a lot of work, which is why most brides thank their wedding party with a carefully thought out gift of appreciation; but how much should one spend? There's no right amount but by reading the answer to the question below, hopefully you'll have a good idea as to where to start. You can also submit your questions in our Ask Savvy group.
Dear Savvy,
My wedding is coming up and I'm at a loss as to what to gift my bridesmaids who have been nothing short of amazing throughout my 10 month engagement. Like every bride, money is tight, but I still want to give my girls a nice present to show my appreciation for the love and support they've given me. Is there an appropriate price range?
Clueless Cassie
To see what a savvy bride has to say about this, keep reading after the jump.
Savvy bride says:
Giving your wedding party a gift as a token of your appreciation is traditional, not to mention a very nice gesture, but note that it's not necessarily a requirement. With that said, the bridesmaid gift price ranges run the gamut. I think it all depends on your financial situation.
To start, the size of your wedding party will help dictate how much you spend, but at the end of the day, it's not about the dollar amount as much as it is the thought put into the gift. If you have just a few girls and you're able to splurge, a piece of jewelry or a Pashmina to wear with the bridesmaid dress, a monogrammed bathrobe for getting ready in, or a personalized silver frame or makeup bag are some good ideas. If you're on a budget, you could treat your girls to a mani/pedi, or gift a cute pair of flip-flops to wear toward the end of the reception. A special candle, an elegant box of chocolates, or a gift certificate for room service are also lovely treats.
There is no right or wrong answer to your question, but one thing I will suggest is that you give the same gift to each girl (except if you want to differentiate your maid of honor) so feelings don't get hurt. And remember, hand write a personalized card that reminds her how thankful you are for her friendship, love, and support — sometimes the cards are the best gifts!
Ask anything budget-, etiquette-, or planning-related — well, almost anything — by posting your questions in the Ask Savvy group, and I'll find the right expert to help you out. If you are planning a wedding, already happily wed, or still looking for Mr. Right, start sharing your big day with our community. Don't forget to check the wedding content box on your post.