Gina Rodriguez Talking About Gender Wage Gap 2017
Gina Rodriguez Is Here to Kick the Gender Wage Gap's Ass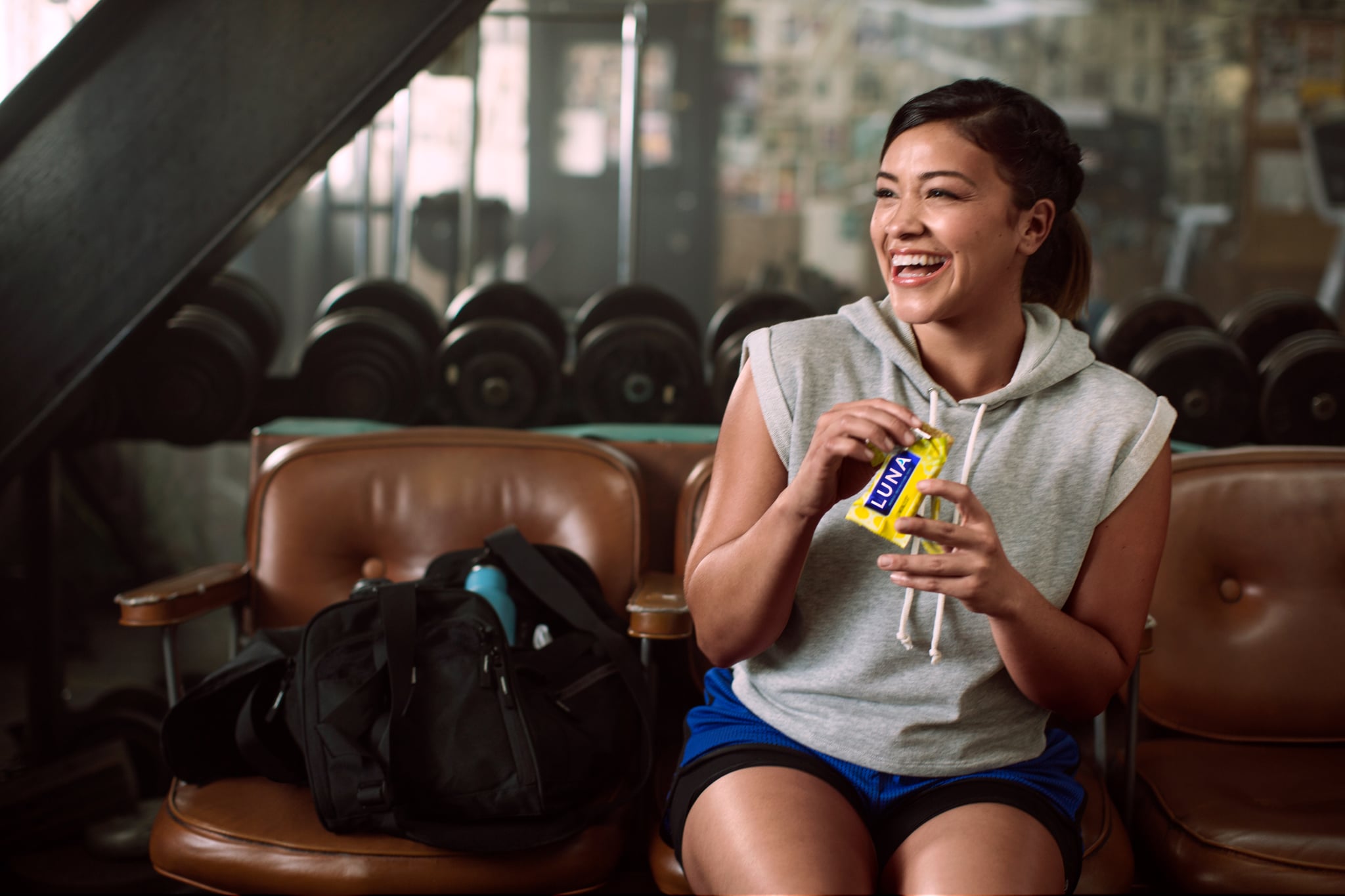 Before I even sit down on the couch next to Gina Rodriguez, she starts peppering me with facts about the wage gap. You see, an unkind, uneducated social media troll has just left her a nasty comment on Instagram saying that the wage gap doesn't exist, and she's had it. "Can you believe it?" she says, her own frustrated disbelief bouncing off the walls of the New York City hotel room we're in. I tell her that, unfortunately, I can. Right now women are typically paid 20 percent less than men, on average, even for doing the exact same job. It's a sad statistic that, as a young woman in the workforce, I've heard over and over again. Surprise, surprise, it doesn't get any easier to hear.
That's why the Jane the Virgin star has teamed up with Luna nutrition bars to fight for equality for women in the workplace. It's a topic she feels extremely passionate about, although she admits she's still learning. A lot of women might find themselves in the same boat — aware of a pay discrepancy between themselves and a male co-worker, but unsure of how to move forward or what action is needed to correct it — but Rodriguez is here to help anyone who wants to be educated.
As we chat in a room overlooking Trump Tower (the implications of which were not lost on me), the Golden Globe Award-winning actress and activist opened up about self-worth, empathy, and how women can take a stand.
POPSUGAR: There are many people in this country who deny that the gender pay gap even exists and dismiss it as a "myth." How do we even begin to communicate with or get through to those people?
Gina Rodriguez: I just wish I could talk to every single one. I'm not the kind of person who can ignore the negative. It stays that way if you don't touch people. Empathy won't exist if you're not like, "Hey, I'm here, I'm a human being." I'm still learning, because I don't know all the answers. I really don't. That's why this is so important to me! The gender pay gap in Hollywood was broken open in Hollywood a few years ago, since we had some really stellar women who weren't afraid to say, "Hey, I'm not getting paid as much as my counterparts." But this is happening across the board in every job, right? So when Luna came to me with this campaign, I was interested in it because at the time I found myself just so appreciative to be working. I was afraid to speak up, and I think a lot of women suffer from fear of being just so appreciative. Like, "I'm glad I have a job, I'm glad I'm here, I'm glad I can help support my family." Any riff-raff and I'm out, and I can't afford that. We are stronger when we come together. One thing that Luna does is champion and uplift women. We need to raise awareness for kids like this who will jump on my Instagram and say that the gender pay gap is a myth.
PS: How are you guys going about doing that?
GR: We're working with two organizations that specifically will help women get equipped with these kind of tools to help them have these conversations. I'm literally learning these myself, because for so long I was too appreciative to speak up, too scared. We're doing 20 percent off Luna bars to represent the 20 percent average pay gap, but also the American Association of University Women, who we're working with to donate and match up to $100,000 so that we can have salary negotiation workshops, because that's where you learn to have those conversations. Again, I'm learning how to have these conversations, because they scare me. They scare anyone. Just bringing them up makes people go crazy and get angry! It makes people get angry because that's what the truth does. The truth infuriates people. It can even infuriate me, because I don't always know the answer. We're trying to create solutions. We're also working with Lean In, which is a phenomenal nonprofit organization started by COO of Facebook Sheryl Sandberg, who's just a G. [laughs] She understands the necessity for women to have these communities so they can have these conversations, because they're terrifying.
PS: One reason for the gender pay gap is that women are far less likely than men to negotiate a higher salary or raise, usually because of self-confidence issues. Do you have any advice for female employees out there who are struggling with this and need encouragement?
GR: I think that because I don't have all the answers, AAUW and Lean In are going to be helpful for all of us. But I will say that it starts with self-worth, and it starts with self-love. That kind of confidence bleeds into every facet of your life. Not only speaking up for yourself for what you deserve in the workplace, but how you speak up in your own communities and your own friend circles, your relationship, your family . . . it's an important tool that I think is a part of this conversation. Even further than that, that self-love translates into supporting others. When you love yourself, it's very difficult to hate. When you uplift yourself and support the decisions you make, it's very easy to do that for other women. Little by little, support the women around you. Have these conversations that are difficult, learn new tools, and then teach someone what you've learned.
PS: I imagine that the set of Jane the Virgin, being such a feminist show, is a great work environment for women.
GR: It's fantastic. The women are very much cared for, and the men are cared for. There's very much an equal playing field on our set, and that's because it starts from the top down. It's Jennie Urman. She sets the tone, and the tone is treating everyone with respect and dignity, and being kind. There's no political totem pole. The PA is treated just like the producer is. There's respect because we all are needed to make that machine work. If you take out one piece, the machine falls apart. We're very conscientious of that, and our top-down environment supports that. You come on our set, and you feel that.
PS: Which is amazing. Unfortunately, so many other women face discrimination, harassment, and sexism at work, especially in industries that are predominantly male. If you could give one piece of advice to women working in hostile or unfair work environments, what would you say?
GR: Find your fellow women in that situation, and start creating a community and a voice together. Those are not easy things to be dealing with, so you don't want to deal with them alone. Find the people that are going to align themselves with you, that are going to be there to support you in this difficult journey. That is not an easy thing, and I send lots of prayers and love to the women who are going through that. That is not an easy environment, and sometimes it means taking yourself out of that environment. There's change to be made in that environment, though, which is the exciting part about it. If you are in a place where there is sexism or sexual harassment, or a very clear inequality, then that means that you get to be the superhero that helps change that. That's exciting! Not easy, but very exciting. It means you have an opportunity for growth, and if you can be that change . . . it's not easy, but damn is it fierce.